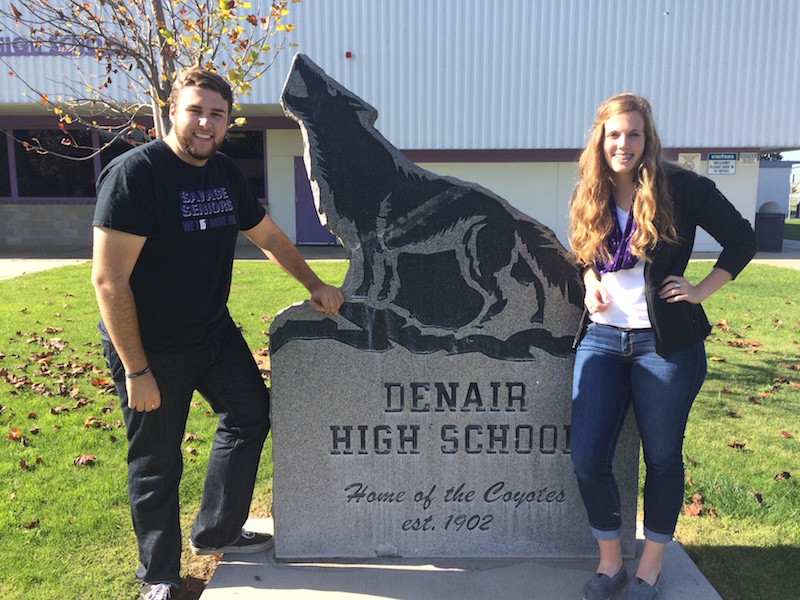 Two of Denair High School's brightest students have gained early acceptance into colleges in Oregon.
High-achieving seniors Anna Dirkse and Joel Thornton applied at multiple universities and likely would have been welcomed at many campuses. But both say they were thrilled when their first choices offered spots in next fall's freshmen class early on in the process.
Dirkse, 17, was accepted at George Fox University in Newberg, about 25 miles south of Portland. It is a small, private Christian college known for its engineering program, though she's leaning in other directions.
"I don't know what I'm going to major in – maybe arts or communications or English," said Dirkse, who has a 4.43 grade point average. "I just applied to an honors program there that studies great works of literature and how they affect culture."
[Read more at DenairPulse.com]
---
The beautification project that will add almost 700 feet of sidewalk and landscaping along the north side Monte Vista Avenue behind Jack W. Lytton Stadium is about to kick into high gear, Superintendent Aaron Rosander told Denair school board trustees Thursday night.
The project is a partnership between the Denair Unified School District and Stanislaus County. Supervisor Vito Chiesa, who represents the Denair area, arranged for a local company to donate the concrete work. The school district will install the irrigation system, grass and shrubbery.
Rosander said there will be a community fundraising effort to help pay for the district's piece of the project, estimated to be about $5,000.
[Read more at DenairPulse.com]
---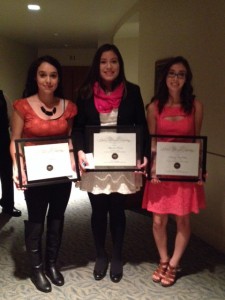 Three students at Denair High School have earned prestigious recognition for their bilingual speaking and writing abilities.
Seniors Maria Martinez and Kimberly Perez Pulido and junior Alejandra Parada were awarded the coveted Seal of Multilingual Proficiency in a ceremony Wednesday night at the Gallo Center for the Arts in Modesto. The designation will be specially noted on their high school diplomas, certifying that they are fluent in English as well as Spanish.
This important recognition helps graduates when they apply to colleges, compete for scholarships or submit job applications.
[Read more at DenairPulse.com]
---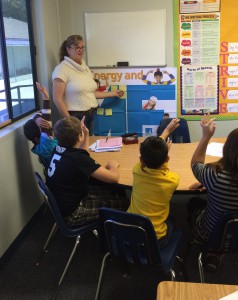 Name: Samantha Ericksen
Family: Husband and three daughters
School: Denair Charter Academy
Subject taught: Kindergarten through sixth-grade home school class
Experience and education: BA and teaching credential from Biola University. I spent five years as a classroom teacher in Modesto. This is my 14th year at DCA.
Why most inspires you about teaching? Seeing students make progress in areas that are challenging for them.
What are your biggest challenges as a teacher? Teaching multiple levels effectively.
[Read more at DenairPulse.com]
---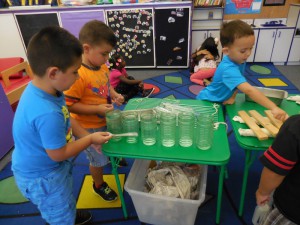 Activity time each day in the Denair Elementary State Preschool is a choreographed frenzy of exploration, excitement and energy among two dozen 3- and 4-year-olds and a team of skilled educators. To the untrained eye, it may seem slightly chaotic, but rest assured – learning is happening at a rapid rate.
In one corner of the classroom, the focus is on science. There is a small fish tank and another for a lizard. There are rocks and shells and blocks to hold and count. There is a magnifying glass, a small weight scale and an array of colorful objects. Youngsters use a small water tank to test what floats and what sinks. Across the room, there is more introductory science and math. Giggling children in mini-lab coats and goggles find out what happens when vinegar is mixed with baking soda, use oversized tweezers to count how many seeds are in a pumpkin or eagerly work a magnet to see whether metal or plastic items are affected by it.
[Read more at DenairPulse.com]
---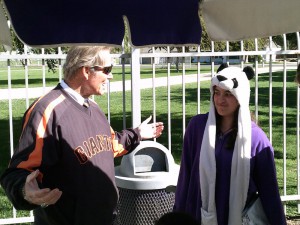 Stanislaus County's top education official walked away impressed after his quick visit Monday to three campuses in the Denair Unified School District.
Tom Changnon, the county superintendent of schools, used words like "amazing," "excellent" and "terrific" to describe his hourlong tour. He popped in to classrooms at Denair High School and Denair Middle School as well as Denair Charter Academy, observing lessons and talking with students as well as teachers.
"Boy, am I impressed. There are a lot of good things happening out here," said Changnon, who tries to visit each of the county's 25 school districts every few years. He estimated it had been at least three years since his last trip to Denair, which is in the midst of a remarkable financial and academic recovery under new Superintendent Aaron Rosander.
[Read more at DenairPulse.com]
---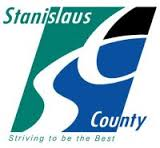 The Denair Unified School District and the Stanislaus County will collaborate on a project that will improve safety around the high school stadium as well as beautify the western entrance to town.
The plan is to replace a weedy area on the north side of Monte Vista Avenue with 640 feet a sidewalk and landscaping. The county will pay for the 5-foot sidewalk, which will connect with an existing walkway that now ends at the intersection of Lester Road and Monte Vista. The school district will be responsible for the installation and maintenance of 12 feet of landscaping between the new sidewalk and a chain-link fence.
Superintendent Aaron Rosander announced the good news at Thursday night's school board meeting. Grading will begin in a few weeks and the project should be completed later this fall, he said.
Rosander credited county Supervisor Vito Chiesa and Public Works Director Matt Machado for their support and willingness to partner on the project. Members of the Denair Municipal Advisory Council also endorsed the new sidewalk.
[Read more at DenairPulse.com]
---

< Click here for more information >
The Common Core State Standards (CCSS) were developed through a state-led initiative to establish consistent and clear education standards for English language arts and mathematics that would better prepare students for success in college, career, and the competitive global economy. The California State Board of Education (SBE) adopted the standards on August 2, 2010.
---

ParentCONNECT
Parents now have the ability to view their child's school information over the Internet. Currently, ParentCONNECT is offered to parents with children attending Denair High School. ParentCONNECT will be available district-wide at the beginning of the 2012-13 school year. Visit the ParentCONNECT page.
---

The Denair Unified School District in cooperation and communication with the home and the community recognizes our children as our future and will provide quality education in a safe environment that renders students competent in basic learning, technical, and social skills and will foster work habits, intrinsic values, and character in students that reflect life-long love for learning.
Belief Statement
We believe that Denair Unified School District, in collaboration with parents and community members, can and will provide support to ensure that every student will come to school, stay in school and do the very best they can.
---

Denair Unified School District
209-632-7514 • Fax 209-632-9194
3460 Lester Road • Denair, CA 95316
---
Nondiscrimination Statement - Denair Unified School District prohibits unlawful discrimination, harassment, intimidation, and bullying of any student based on the student's actual race, color, ancestry, national origin, ethnic group identification, age, religion, marital or parental status, physical or mental disability, sex, sexual orientation, gender, gender identity, or gender expression; the perception of one or more of such characteristics; or association with a person or group with one or more of these actual or perceived characteristics. El Distrito Unificado de Denair prohíbe la discriminación ilegal, el acoso, la intimidación y el acoso de cualquier estudiante en base a la raza del estudiante color, ascendencia, origen nacional, grupo étnico, edad, religión, estado civil o situación de los padres , discapacidad física o mental, el sexo, la orientación sexual, expresión sexual, identidad de género , la percepción de una o más de estas características, o asociación con una persona o grupo con una o más de estas características reales o percibidas.
Click here for more information
Mailing & Physical address
3460 Lester Road
Denair, CA 95316
Phone:
(209) 632-7514
Fax: (209) 632-9194