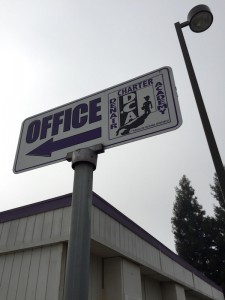 Erin Kirkley, who was once a dropout and now is on the brink of graduation, calls Denair Charter Academy "her second home." Darlene Contrell credits DCA with turning around her grandson's life. A teen father says the independent study program allows him to balance school with a job to support his daughter. Aspiring church missionary Tabitha Harrison appreciates the flexibility of the schedule.
Though each student's situation is unique, they all reflect an approach to what Principal Michelle Bush calls "personalized education." The appeal and effectiveness of that philosophy is reflected in the small campus' impressive growth: Just since August, DCA's enrollment has risen from 225 students to 320 today.
"I think the kids are seeking a different kind of experience," explained Bush, who blends high academic expectations for her students with equal portions tough love and emotional support. "The magic in this place comes from the relationships teachers establish with their students that extend beyond the lessons."
[Read more at DenairPulse.com]
---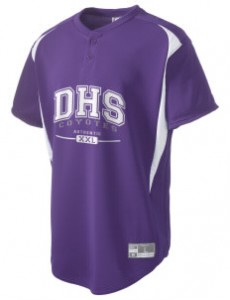 One of Denair High School's best baseball players in the past decade will return this spring to take over as varsity coach.
Shawn Stuart was a standout pitcher, infielder and outfielder for the Coyotes who graduated in 2007. He went on to star as a pitcher at Merced College and Long Beach State University before being drafted by the Colorado Rockies in the 31st round in 2012. He spent two years in that organization's minor-league system before deciding to leave pro baseball to pursue a teaching career.
"Teaching was always part of the plan. I knew I wanted to become a teacher. Obviously, I hoped it would be after a long pro career," said Stuart, whose time in the minors was cut short by an arm injury.
He has one semester left in an online program offered by Fresno State to earn his teaching credential. He aspires to teach at multiple grade levels during his career, with a long-term goal of ending up on a college staff.
[Read more at DenairPulse.com]
---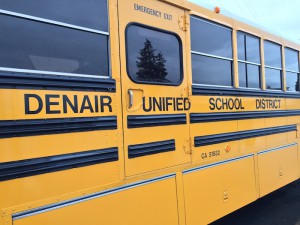 A contract with Storer Transportation Services of Modesto to take over transportation services was approved Thursday night by the Denair Unified School District Board of Trustees.
Storer has furnished drivers to operate Denair's buses on an emergency basis since the first of the year. The new contract will pay the company $75,400 for the remainder of this school year. The conditions of the deal require Storer to use and maintain Denair's four buses and offer an equivalent position to the district's former transportation supervisor.
Denair needs two drivers each in the morning and afternoon to handle its routes. Repeated recruitment efforts last fall generated no qualified applicants. Instead, other district employees certified to drive a bus – a custodian, a utility worker and a transportation supervisor – had to take time away from their other duties.
About 120 of Denair's 1,300 elementary through high school students ride the bus daily. District officials said the outsourcing arrangement will be re-evaluated at the end of the school year.
---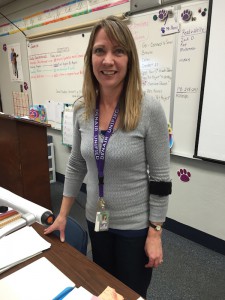 Name: Brenda Ranes
Family: My husband is Mark Ranes (where would we be without Mark when we have tech problems?) We have a 24-year-old daughter, Meagan, who lives in Oakland and recently graduated from Academy of Arts University, San Francisco, with a Bachelor of Fine Arts degree, and a 16-year-old son, Dawson, who is a junior in high school.
School: Denair Academic Avenues
Subjects taught: English-language arts and social studies
Experience and education: I graduated from Denair High School and then earned my BA degree and multiple subjects teaching credential from California State University, Stanislaus. I began my career teaching fifth grade at Bonita Elementary School in Crows Landing for 10 years. I then returned to my hometown of Denair to teach seventh-grade English-language arts and social studies for 15 years. Realizing that I needed a new challenge, I made the decision three years ago to return to elementary school and made the move across the street (again!) to teach fifth grade at Denair Academic Avenues.
[Read more at DenairPulse.com]
---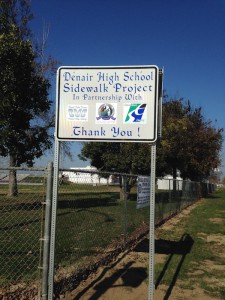 The first piece of a community beautification and pedestrian safety project at Denair's western entrance was completed Tuesday with the pouring of 700 feet of concrete along Monte Vista Avenue.
Central Valley Concrete of Denair provided the materials and arranged for the labor on the project, which was a joint effort by the Denair Unified School District and Stanislaus County. Supervisor Vito Chiesa, who represents the Denair area, arranged for CVC to donate the concrete work. The school district will install the irrigation system, grass and shrubbery later this spring.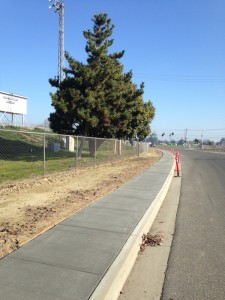 The new 5-foot-wide sidewalk is along the north side Monte Vista Avenue behind Jack W. Lytton Stadium. It connects with an existing walkway that
ended at the intersection of Lester Road and Monte Vista. It will provide a safer route to and from school for students as well as users of the stadium, which hosts football games and other community events.Sidewalk Thank You Sign
"It looks great," said Denair Superintendent Aaron Rosander.
He said there will be a community fundraising effort to help pay for the landscaping and irrigation system, estimated to be about $5,000.
---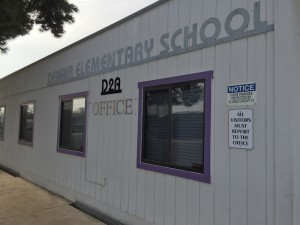 Two elementary campuses will become one at the start of the next school year in Denair, it was announced Thursday night.
Denair Elementary School and the adjacent Denair Academic Avenues will merge to form a new school called Denair Elementary Charter Academy. Together, the two schools today educate 485 kindergarten through fifth-grade students from Denair and surrounding areas.
A new charter will be written that incorporates the best of both campuses, Superintendent Aaron Rosander told Denair Unified School District trustees Thursday night in unveiling the plan. He cited the charter school's Spanish language and fine arts programs and DES's music and traditional academic offerings as strengths that would be retained on a unified campus.
[Read more at DenairPulse]
---

< Click here for more information >
The Common Core State Standards (CCSS) were developed through a state-led initiative to establish consistent and clear education standards for English language arts and mathematics that would better prepare students for success in college, career, and the competitive global economy. The California State Board of Education (SBE) adopted the standards on August 2, 2010.
---

ParentCONNECT
Parents now have the ability to view their child's school information over the Internet. Currently, ParentCONNECT is offered to parents with children attending Denair High School. ParentCONNECT will be available district-wide at the beginning of the 2012-13 school year. Visit the ParentCONNECT page.
---

The Denair Unified School District in cooperation and communication with the home and the community recognizes our children as our future and will provide quality education in a safe environment that renders students competent in basic learning, technical, and social skills and will foster work habits, intrinsic values, and character in students that reflect life-long love for learning.
Belief Statement
We believe that Denair Unified School District, in collaboration with parents and community members, can and will provide support to ensure that every student will come to school, stay in school and do the very best they can.
---

Denair Unified School District
209-632-7514 • Fax 209-632-9194
3460 Lester Road • Denair, CA 95316
---
Nondiscrimination Statement - Denair Unified School District prohibits unlawful discrimination, harassment, intimidation, and bullying of any student based on the student's actual race, color, ancestry, national origin, ethnic group identification, age, religion, marital or parental status, physical or mental disability, sex, sexual orientation, gender, gender identity, or gender expression; the perception of one or more of such characteristics; or association with a person or group with one or more of these actual or perceived characteristics. El Distrito Unificado de Denair prohíbe la discriminación ilegal, el acoso, la intimidación y el acoso de cualquier estudiante en base a la raza del estudiante color, ascendencia, origen nacional, grupo étnico, edad, religión, estado civil o situación de los padres , discapacidad física o mental, el sexo, la orientación sexual, expresión sexual, identidad de género , la percepción de una o más de estas características, o asociación con una persona o grupo con una o más de estas características reales o percibidas.
Click here for more information
Mailing & Physical address
3460 Lester Road
Denair, CA 95316
Phone:
(209) 632-7514
Fax: (209) 632-9194