Talk about keeping a secret. For nearly a month, Air Force Airman Hannah Pointon, her former teacher Patti Morrissey and Denair Elementary School Principal Sara Michelena had been plotting how to surprise Pointon's parents, Jody and Roger Jorge.
Pointon grew up in Denair. Her mother is the administrative assistant to the district superintendent. They are as close as mother and daughter can be. "She's the other half of me," is how Jody describes their bond.
So when Pointon told her parents before Thanksgiving that she wouldn't be able to leave her base in San Antonio to come home for Christmas, it was an emotional blow. Jody, especially, was heartbroken. They never had been apart at the holidays. She and her Pointon talked and texted every day, but they didn't expect to see each other until April.
Then Pointon's plans changed. Only she didn't tell her parents.
[Read more at DenairPulse]
---
Like many good deeds, it started with a small idea.
"What if we do something nice for someone else for Christmas?" campus supervisor Melissa Oei asked her Denair Middle School safety patrol students in October. The sixth-, seventh- and eighth-graders brainstormed some worthy causes – help out an animal rescue organization, or donate to a church or homeless shelter. Then Oei suggested adopting a family in need.
"The kids just jumped," she said.
Step one: Goal identified. But what next?
Oei reached out to Sierra Vista Child and Family Services, a respected nonprofit agency that operates the Hughson Family Resource Center. Oei asked the staff in Hughson for families in the Denair area. Her students, she said, specifically wanted to help single-parent households.
[Read more at DenairPulse]
---
DHS Teacher Uses Innovative Approach to Math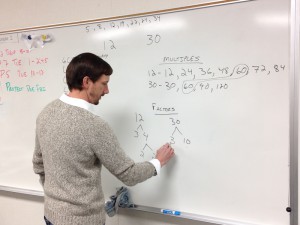 Taking over six math classes a month into the school year isn't the preferred way for a new teacher to join a staff. But Russ Hess didn't have a choice. He didn't become aware that Denair High School was looking for a teacher until well after classes began last August 12. And by the time he went through the interview process and was hired, a long-term substitute had been in place for four weeks. Hess may have gotten a late start, but he's worked hard to make up for it.
"It was difficult because – no fault to the sub – (the classroom environment) was so loose and I'm very strict," said Hess. "I didn't have time to prep. I haven't had time to get my room in shape."
There was a bigger issue: Hess also didn't have a California teaching credential, though he had spent the previous five years teaching math and science at Brethren Heritage School, a private campus in Salida. He worked with the Stanislaus County of Office of Education to gain recognition of his proficiency based on his classroom experience and a double math major from Central Washington University.
[Read more at DenairPulse]
---
The Denair Unified School District has made a remarkable financial turnaround, trustees were told Thursday night, and will finish the 2014-14 school year with a small surplus.
The recovery is about 18 months ahead of the aggressive expectations set last spring by new Superintendent Aaron Rosander and his revamped financial team in conjunction with state and county advisers. He said the district has kept a "laser-like" focus on its fiscal challenges and been "parsimonious" with its spending.
"The entire district has come together to ensure our success," said Rosander, who took over in February. "Management and union members have worked impressively together over the past eight months. This relationship is strong and our combined will to succeed is even stronger."
The district has an $8.7 million budget in 2014-15 and estimates it will end the school year with a 3% reserve, or about $262,000. That meets the minimum requirements set by the state and should earn Denair a "positive" certification for the first time since January 2012 from the Stanislaus County Office of Education, which reviews all school district budgets in the county.
[Read more at DenairPulse.com]
---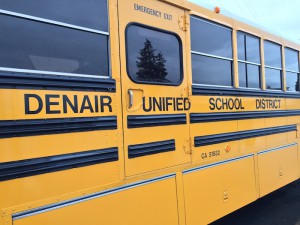 A shortage of qualified bus drivers and mechanics prompted the Denair Unified School District board to unanimously pass an emergency declaration Thursday night to immediately seek bids from a private company to provide the service.
About 120 of Denair's 1,300 elementary through high school students ride the bus daily, district officials said. Despite repeated recruitment efforts, Denair has been unable to find two qualified applicants to work the daily four-hour bus driver shifts. Drivers were paid between $13.50 and $16 per hour, depending upon experience.
[Read more at DenairPulse.com]
---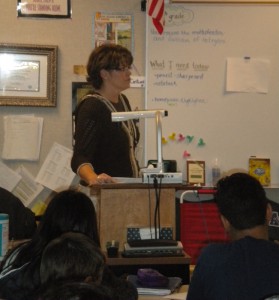 Name: Rosanne Cantwell
Family: I have a spectacular husband of 16 years, Mike, who not only teaches AP biology and chemistry at Gregori High School in Modesto, but coaches wrestling there as well. I am also blessed to have two beautiful, active daughters: Riley is 14 years old and a freshman in high school and Sidney just turned 12 and is a seventh-grader.
School: Denair Middle School
Subjects Taught: Seventh- and eighth-grade math as well as a leadership class
Experience and Education: I worked hard and earned my bachelor's degree and teaching credential from CSU Stanislaus. I am currently in my 18th year of teaching (all at DMS!!). I started teaching seventh-grade language arts and social studies before moving to sixth grade to partner teach with a dynamic teacher (Mrs. Bush) before taking two years off to stay at home with my girls. I returned to teaching in 2004 and have been teaching algebra/math ever since.
[Read more at DenairPulse.com]
---
The gym is a busy place these days at Denair High School. The boys and girls basketball teams plus the wrestling team all have begun their winter schedules with an eye toward preparing themselves to compete for Southern League titles in January and February.
Boys Basketball
Despite a 10-player roster, third-year coach R.J. Henderson is confident the Coyotes have improved enough to contend for one of the league's three spots in the Sac-Joaquin Section playoffs.
"I'd like to think the last week or two of the season we'll be playing for something," said Henderson, whose young team won just seven games a year ago.
(Read more at DenairPulse.com]
---

David Rodriguez has a short list of people who inspired him.
His father, a farmworker, taught him the value of hard work. An entrepreneurial cousin helped him develo
p an appreciation for money. A high school coach convinced him to dream big.
But it is the memory of the elementary teacher who didn't believe a shy, Spanish-speaking boy could
learn in her classroom that led him to a career in education and a place on the staff at Denair Middle School.
Rodriguez grew up in Ivanhoe, a poor, gang-plagued community just northeast of Visalia in Tulare County. His father — a former minor-league baseball player in Mexico – worked in the fields. The family only spoke Spanish. Rodriguez had to learn English bit by bit at school, without any special attention.
[
Read more at DenairPulse.com
]
---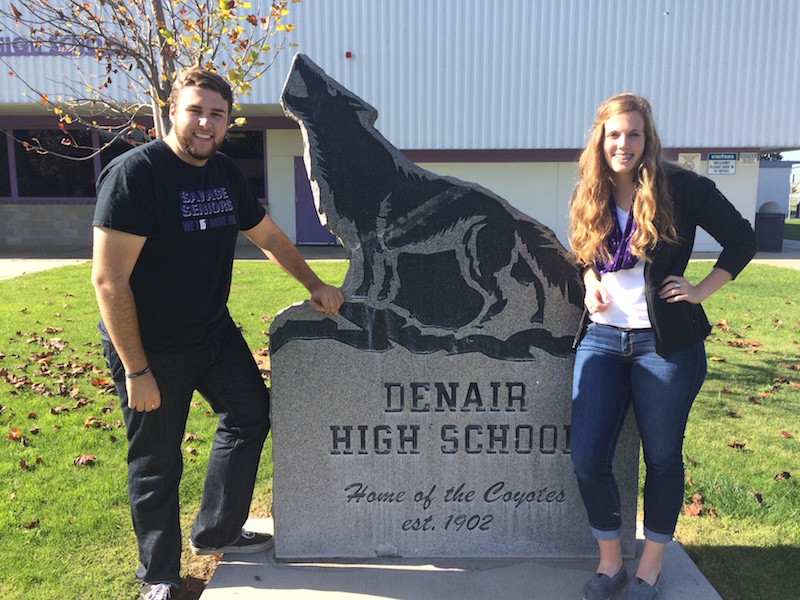 Two of Denair High School's brightest students have gained early acceptance into colleges in Oregon.
High-achieving seniors Anna Dirkse and Joel Thornton applied at multiple universities and likely would have been welcomed at many campuses. But both say they were thrilled when their first choices offered spots in next fall's freshmen class early on in the process.
Dirkse, 17, was accepted at George Fox University in Newberg, about 25 miles south of Portland. It is a small, private Christian college known for its engineering program, though she's leaning in other directions.
"I don't know what I'm going to major in – maybe arts or communications or English," said Dirkse, who has a 4.43 grade point average. "I just applied to an honors program there that studies great works of literature and how they affect culture."
[Read more at DenairPulse.com]
---
The beautification project that will add almost 700 feet of sidewalk and landscaping along the north side Monte Vista Avenue behind Jack W. Lytton Stadium is about to kick into high gear, Superintendent Aaron Rosander told Denair school board trustees Thursday night.
The project is a partnership between the Denair Unified School District and Stanislaus County. Supervisor Vito Chiesa, who represents the Denair area, arranged for a local company to donate the concrete work. The school district will install the irrigation system, grass and shrubbery.
Rosander said there will be a community fundraising effort to help pay for the district's piece of the project, estimated to be about $5,000.
[Read more at DenairPulse.com]
---

< Click here for more information >
The Common Core State Standards (CCSS) were developed through a state-led initiative to establish consistent and clear education standards for English language arts and mathematics that would better prepare students for success in college, career, and the competitive global economy. The California State Board of Education (SBE) adopted the standards on August 2, 2010.
---

ParentCONNECT
Parents now have the ability to view their child's school information over the Internet. Currently, ParentCONNECT is offered to parents with children attending Denair High School. ParentCONNECT will be available district-wide at the beginning of the 2012-13 school year. Visit the ParentCONNECT page.
---

The Denair Unified School District in cooperation and communication with the home and the community recognizes our children as our future and will provide quality education in a safe environment that renders students competent in basic learning, technical, and social skills and will foster work habits, intrinsic values, and character in students that reflect life-long love for learning.
Belief Statement
We believe that Denair Unified School District, in collaboration with parents and community members, can and will provide support to ensure that every student will come to school, stay in school and do the very best they can.
---

Denair Unified School District
209-632-7514 • Fax 209-632-9194
3460 Lester Road • Denair, CA 95316
---
Nondiscrimination Statement - Denair Unified School District prohibits unlawful discrimination, harassment, intimidation, and bullying of any student based on the student's actual race, color, ancestry, national origin, ethnic group identification, age, religion, marital or parental status, physical or mental disability, sex, sexual orientation, gender, gender identity, or gender expression; the perception of one or more of such characteristics; or association with a person or group with one or more of these actual or perceived characteristics. El Distrito Unificado de Denair prohíbe la discriminación ilegal, el acoso, la intimidación y el acoso de cualquier estudiante en base a la raza del estudiante color, ascendencia, origen nacional, grupo étnico, edad, religión, estado civil o situación de los padres , discapacidad física o mental, el sexo, la orientación sexual, expresión sexual, identidad de género , la percepción de una o más de estas características, o asociación con una persona o grupo con una o más de estas características reales o percibidas.
Click here for more information
Mailing & Physical address
3460 Lester Road
Denair, CA 95316
Phone:
(209) 632-7514
Fax: (209) 632-9194