---
Mark Selee was known for the special bond he formed with students at Denair Elementary Charter Academy. Not only was he a popular fourth-grade teacher, he also was a frequent presence on the playground, often joining basketball games or other activities with youngsters. He promoted inclusion, interaction and respect among students.

All of which makes the memorial bench recently dedicated in Selee's honor so appropriate. Known as a "buddy bench," it is a way to promote kindness and foster friendships on the playground.

"If someone is sitting on the bench, they want to be included in whatever is happening," explained DECA Principal Kelly Beard at Thursday's monthly Denair Unified Board of Trustees meeting.

Selee's sudden death from a heart attack during Thanksgiving break in 2015 rocked the DECA campus and the saddened the Denair community. But the memory of his energetic, positive presence remains for his peers as well as some of the students who were first- and second-graders then.

The bench installed Monday provides a tangible way for all to carry out Selee's legacy. It is on the third-, fourth- and fifth-grade playground. It has Coyote paw prints, but rather that sport a shade of purple like most items on campus, the bench is painted in gold and black – the colors of Selee's favorite professional sports teams from Pittsburgh (Pirates, Steelers and Penguins).

"As a staff, we decided we wanted it those colors," Beard said.

A second memorial bench for Selee is on order, she said. In addition, there is a memorial plaque for Selee in the gym. "Some of our teachers touch it every time they walk in," Beard said.

DECA also has a memorial bench for a former student on its kindergarten playground.
Share this:
---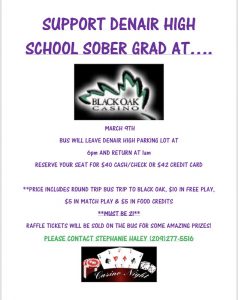 Denair Sober Grad Nite Boosters Club is hosting a Black Oak Casino Bus Trip on Friday, March 9, 2018. They are raising money for the Class of 2018 Sober Grad Nite.
Tickets will be $40 per person, cash or check, or $42 with a credit card. They can process your credit card via Square. Ticket includes roundtrip bus ride to Black Oak, $10 in free play, $5 match play and $5 in food credit. There will also be raffle items to win on the bus ride up the hill. The bus leave at 6:00 pm and will be home by 1:00 am.
If you want to pay via credit card please Caley Rutherford via e-mail or text, using the phone number below.
There is only a limited number of seats available so save your seat as soon as possible. If you have any questions you can call Caley (209) 613-9228.
All passengers must be 21 years of age and have proper identification.
---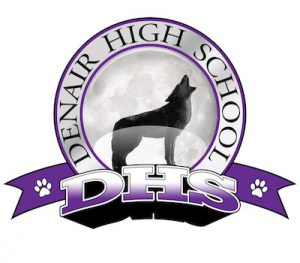 The Two Denair High wrestlers gained valuable experience, their coach believes, before they were eliminated at last weekend's Sac-Joaquin Division V meet in Delhi.
Cody Martinez (126 pounds) and Quentin Parker (160) both were first-time qualifiers for the Division V meet.
"They were competitive in their weight classes," Coyotes Coach Jorge Ruelas said. "They succeeded in experiencing a new competitor that they will be able to visualize in their training for next season."
Martinez, a freshman, was pinned by Hughson's Trace Huber in his first match. Huber went on to qualify for this week's Masters meet in Stockton.
Martinez bounced back to pin Michael Alcoriza of Argonaut in the second round, but then got pinned himself by Josh Stubbert of Big Valley Christian in his third match.
Parker, a junior, was pinned by Bryan McCoard of Golden Sierra in the first round. He got a bye in the second round, but lost by technical fall (trailing by 15 points) to Jacob Giles of Bradshaw Christian in his third match.
"The Division V tournament was a good experience in that it allowed each wrestler to extend their knowledge and push themselves physically and mentally," Ruelas said. "It also showcased different styles of wrestling they were not previously exposed to within their own division."