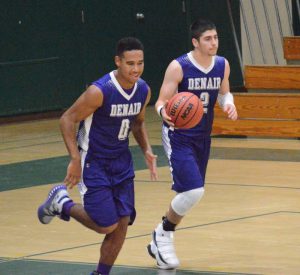 Seven games into the season and on the eve of hosting their own holiday tournament, Denair High School boys basketball coach R.J. Henderson is beginning to understand his team.
The Coyotes are exceedingly young, they are more athletic than they have been in years and they're still figuring out how to play together.
An opening night victory over Turlock Christian was followed by four losses in a row – three of them at the Riverbank Tournament two weeks ago. Then came blowout victories last week over Millennium and Stone Ridge Christian.
"I think we've definitely turned the corner," said Henderson, now in his sixth season as head coach. "We really struggled to shoot it in Riverbank. The effort was there, but it was very disconnected."
Part of the early season growing pains could have something to do with youth and unfamiliarity. The Coyotes only have nine varsity players – two seniors, four juniors and three sophomores. Henderson expects them all to "play and contribute."
What little depth Denair has already is being tested. Senior center Dylan Mann – the tallest player at 6-foot-5 – rolled his ankle in Riverbank and may not play until the Southern League schedule begins in January. The other senior, forward Justin Short, suffered a broken nose last week against Stone Ridge. He's out at least a couple of weeks.
That means the Coyotes will have seven healthy players when they take on Waterford on Thursday at 8 p.m. in the first round of the Denair Holiday Classic. Denair's other games in the round-robin tournament are Friday at 8 p.m. against Turlock Christian and Saturday at 2 p.m. against Hughson.
Still, Henderson is confident the players who are available will continue to work together – even if rest will be at a premium this week. Continue reading "Denair Boys Ready to Host Basketball Tournament" »