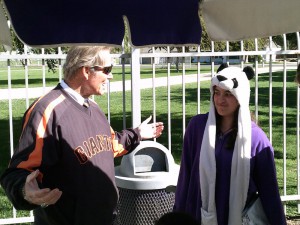 Stanislaus County's top education official walked away impressed after his quick visit Monday to three campuses in the Denair Unified School District.
Tom Changnon, the county superintendent of schools, used words like "amazing," "excellent" and "terrific" to describe his hourlong tour. He popped in to classrooms at Denair High School and Denair Middle School as well as Denair Charter Academy, observing lessons and talking with students as well as teachers.
"Boy, am I impressed. There are a lot of good things happening out here," said Changnon, who tries to visit each of the county's 25 school districts every few years. He estimated it had been at least three years since his last trip to Denair, which is in the midst of a remarkable financial and academic recovery under new Superintendent Aaron Rosander.
[Read more at DenairPulse.com]
---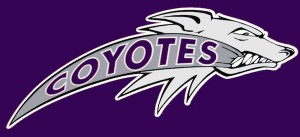 The excitement of an afternoon homecoming celebration gave way to the harsh reality of a tough football season Friday night for the Denair High team.
Outmanned and physically overmatched, the Coyotes quietly were beaten 31-0 by Ripon Christian before an enthusiastic crowd at Jack W. Lytton Stadium.
A week after nearly upsetting Orestimba on the road, Denair saw the accumulation of injuries and roster attrition undermine its chances against Ripon Christian. The Coyotes suited up just 19 players, five of whom were nursing various aches and pains that kept them from contributing to the fullest.
[Read more at DenairPulse.com]
---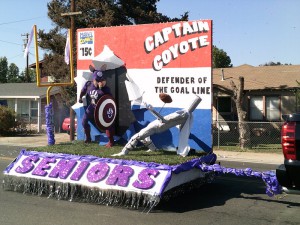 Beautiful queens accompanied by brothers who became kings. An entertaining marching band and energetic cheerleaders. Stylishly decorated floats, tricked out trucks and shiny convertibles.
And purple. Lots and lots of purple. Plus, plenty of smiling faces.
The annual Denair High School homecoming parade had it all Friday afternoon, marking a fun-filled and memorable beginning to a day that concluded with the varsity and junior varsity football games against Ripon Christian.
[Read more at DenairPulse.com]
---
Denair Lions Community Pancake Breakfast is being held on Sunday, November 2nd, 7 am - noon, at the Denair Community Center. Donations glady accepted at the door.
This year's event is being held in memory of Lion Bill Smith and a portion of the proceeds will benefit the Denair USD baseball facilities.
[Click to view full flyer]
---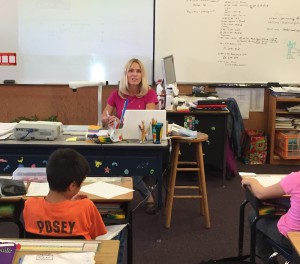 Name: Tami Sondeno
Family: My husband Denis, with whom I have been married to for 22 years; my son Cameron, 18, who attends MJC and is on the water polo team; my daughter Natasha, 16, who attends Pitman High School and is on the dive team; and my daughter Shannon, 12, who attends Denair Middle School and is on the leadership team.
School: Denair Academic Avenues
Subjects taught: Fourth and fifth grade math and science
Experience and education: I attended Modesto Junior College and received an AA degree in child development. I furthered my education at CSU Stanislaus and earned BAs in child development and liberal studies. I have a multiple subjects credential as well as a general science supplemental credential. I taught science, history and core at Yolo Junior High for eight years and moved to Livingston as a part-time instructor for seven years, in which I taught fourth grade. I have been in Denair for 10 years and have instructed fifth grade, 4/5 GATE, fourth-grade GATE, first- through fifth-grade science, and now fourth- and fifth-grade math and science.
[Read more at DenairPulse.com]
---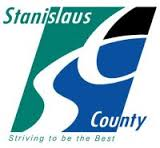 The Denair Unified School District and the Stanislaus County will collaborate on a project that will improve safety around the high school stadium as well as beautify the western entrance to town.
The plan is to replace a weedy area on the north side of Monte Vista Avenue with 640 feet a sidewalk and landscaping. The county will pay for the 5-foot sidewalk, which will connect with an existing walkway that now ends at the intersection of Lester Road and Monte Vista. The school district will be responsible for the installation and maintenance of 12 feet of landscaping between the new sidewalk and a chain-link fence.
Superintendent Aaron Rosander announced the good news at Thursday night's school board meeting. Grading will begin in a few weeks and the project should be completed later this fall, he said.
Rosander credited county Supervisor Vito Chiesa and Public Works Director Matt Machado for their support and willingness to partner on the project. Members of the Denair Municipal Advisory Council also endorsed the new sidewalk.
[Read more at DenairPulse.com]
---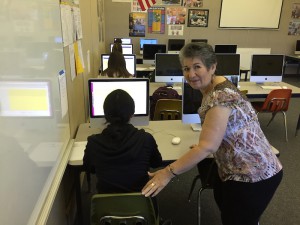 Name: Maria S. Olivas
Family: Three children (Isaac, Gloria and Eva) and three grandchildren (Leonidas, Jordan and Emilia)
School: Denair High School
Subject taught: Spanish 1 – 4
Experience and education: 11 years teaching experience. Bachelor of science degree in business administration from San Francisco State University; teaching credential from CSU Stanislaus; master's in education from Grand Canyon University.
[Read more at DenairPulse.com]
---

< Click here for more information >
The Common Core State Standards (CCSS) were developed through a state-led initiative to establish consistent and clear education standards for English language arts and mathematics that would better prepare students for success in college, career, and the competitive global economy. The California State Board of Education (SBE) adopted the standards on August 2, 2010.
---

ParentCONNECT
Parents now have the ability to view their child's school information over the Internet. Currently, ParentCONNECT is offered to parents with children attending Denair High School. ParentCONNECT will be available district-wide at the beginning of the 2012-13 school year. Visit the ParentCONNECT page.
---

The Denair Unified School District in cooperation and communication with the home and the community recognizes our children as our future and will provide quality education in a safe environment that renders students competent in basic learning, technical, and social skills and will foster work habits, intrinsic values, and character in students that reflect life-long love for learning.
Belief Statement
We believe that Denair Unified School District, in collaboration with parents and community members, can and will provide support to ensure that every student will come to school, stay in school and do the very best they can.
---

Denair Unified School District
209-632-7514 • Fax 209-632-9194
3460 Lester Road • Denair, CA 95316
---
Nondiscrimination Statement - Denair Unified School District prohibits unlawful discrimination, harassment, intimidation, and bullying of any student based on the student's actual race, color, ancestry, national origin, ethnic group identification, age, religion, marital or parental status, physical or mental disability, sex, sexual orientation, gender, gender identity, or gender expression; the perception of one or more of such characteristics; or association with a person or group with one or more of these actual or perceived characteristics. El Distrito Unificado de Denair prohíbe la discriminación ilegal, el acoso, la intimidación y el acoso de cualquier estudiante en base a la raza del estudiante color, ascendencia, origen nacional, grupo étnico, edad, religión, estado civil o situación de los padres , discapacidad física o mental, el sexo, la orientación sexual, expresión sexual, identidad de género , la percepción de una o más de estas características, o asociación con una persona o grupo con una o más de estas características reales o percibidas.
Click here for more information
Mailing & Physical address
3460 Lester Road
Denair, CA 95316
Phone:
(209) 632-7514
Fax: (209) 632-9194