D2A Dogs Displayed at Local Veterinary Office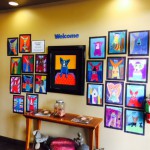 Second graders at Denair Academic Avenues learned about the artist George Rodrigue and his famous Blue Dog works. Their teacher, Nancy Tanner, guided them in drawing their own Blue Dog outline, which was then followed by their own creative colors and designs. The resulting oil pastel drawings were an explosion of whimsical color and pattern!
Dr. Rob Santos, D.V.M. at Monte Vista Small Animal Veterinary Hospital was gracious enough to hang the "guest artists'" work in his lobby, surrounding his own original painting by Rodrigue. Stop by and see "Blue Dog's Friends" at MVSAH. You won't be disappointed!
---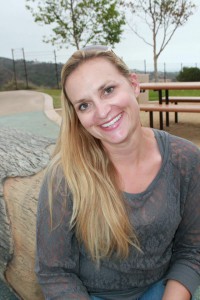 Name: Coree Fitzgerald
School: Denair Academic Avenues
Subject taught: Kindergarten
Experience and education: I have taught at Denair schools for 11 years. I grew up in Denair and attended schools here from kindergarten through 12th grade. I went to Westmont College in Santa Barbara and graduated with a bachelor's degree in kinesiology. I earned my teaching credential through California State University, Stanislaus, and went on to complete my master's in education there as well.
Why most inspires you about teaching? I love that as a kindergarten teacher I get to be the students' first experience with education in the school setting. I love to see when my students are excited about what they are learning and eager to keep trying when things seem difficult. My main inspiration is that the kids will have a love of learning and the confidence they will need during their next years in school.
[Read more at DenairPulse.com]
---
Potential kindergarten enrollment is only one small measure of public enthusiasm for the proposed Denair Elementary Charter Academy. Still, the early response is overwhelmingly positive.
Already, there are 88 children signed up for kindergarten next fall. That compares to 85 kindergartners on the two elementary campuses today.
"We typically have two-thirds of our enrollment by mid-March, so that's very good," elementary Principal Sara Michelena told Denair Unified School District trustees Thursday night.
The meeting was the first opportunity for the board and members of the public to review plans for a revamped elementary charter school, which will be known as DECA beginning with the 2015-16 school year. It will replace the separate and adjacent elementary programs that exist today — Denair Elementary School and the Denair Academic Avenues.
[Read more at DenairPulse.com]
---

Denair schools trustees and the public will have their first chance Thursday night to publicly review plans for a revamped elementary charter school.
The proposal calls for Denair Elementary School and the adjacent Denair Academic Avenues to form a new school known as Denair Elementary Charter Academy, or DECA, for the 2015-16 school year. Together, the two campuses now have about 500 kindergarten through fifth-grade students from Denair and surrounding areas.
DECA's mission, according to the proposed new charter, "is to provide students with an engaging, nurturing, equitable learning environment that promotes the development of skills necessary for the 21st century."
The curriculum will be rich with core subjects such as language arts, math, science, social science and physical education. Electives will include world/foreign languages, drama, music, art, dance and computer instruction.
[Read more at DenairPulse.com]
---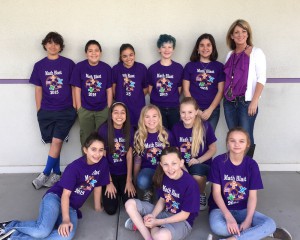 A team from Denair Middle School will compete in the annual Sixth Grade Math Blast on Saturday at Modesto Junior College.
The competition pits students representing about a dozen schools from districts throughout Stanislaus County. There are categories for individuals as well as two-member teams.
Denair's team – coached by Linda Richardson – was chosen in January and has been practicing during the students' lunch period.
[Read more at DenairPulse.com]
---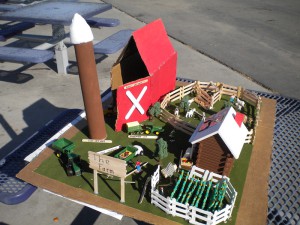 Denair Middle School science students became the teachers for a few minutes Friday morning, explaining the concepts of cellular structure to their elementary counterparts.
Seventh-graders from two of Barry Cole's biology classes built elaborate replicas of farms, military bases, an Old West town and even a futuristic community to help with their 15-minute presentations.
A farmhouse became the cell's "nucleus," a silo was the "cell wall," cattle and pigs were "ribosomes" and "lysosomes," farmland became "cytoplasm" and the barn substituted as a "vacuole."
[Read more at DenairPulse.com]
---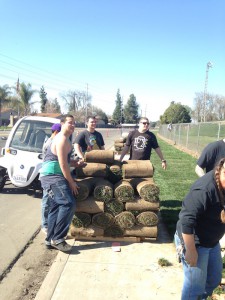 A dusty strip of land has an emerald green carpet of grass today, the final part of a collaborative community effort to boost pedestrian safety while also beautifying a busy intersection.
Denair High School students worked with district's maintenance Thursday to lay down sod alongside 700 feet of concrete sidewalk poured in early January on the north side of Monte Vista Avenue. The irrigation system previously had been installed.
The new sidewalk will improve safety and access to and from nearby Jack W. Lytton Stadium, the scene of football games in the fall as well as community events at other times of the year. It also benefits students attending any of the Denair Unified School District campuses around the corner on Lester Road.
[Read more at DenairPulse.com]
---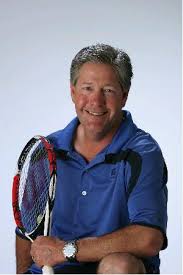 Bill Weber teaches tennis. To children as young as 3 and seniors as old as 88. To players who have never gripped a racquet all the way to tournament competitors. His office can be a city park, a private club or, this spring, the purple courts at Denair High School.
He is a tennis lifer. He's been teaching the sport for 30 years and, at age 57, can't imagine doing anything else.
Recently, he was named the 2014 Independent Teaching Professional of the Year by the U.S. Professional Teaching Association, an international organization with more than 13,000 members. He was singled out as the best in Northern California, a region that stretches from Fresno to the Oregon border.
Weber consistently has earned praise for his innovative teaching techniques, especially with children. He uses a method developed in Europe that uses smaller racquets, a shorter court, lower nets and modified balls to introduce kids to the game. As young players gradually get bigger and stronger, they move to the regular court.
[Read more at DenairPulse.com]
---

< Click here for more information >
The Common Core State Standards (CCSS) were developed through a state-led initiative to establish consistent and clear education standards for English language arts and mathematics that would better prepare students for success in college, career, and the competitive global economy. The California State Board of Education (SBE) adopted the standards on August 2, 2010.
---

ParentCONNECT
Parents now have the ability to view their child's school information over the Internet. Currently, ParentCONNECT is offered to parents with children attending Denair High School. ParentCONNECT will be available district-wide at the beginning of the 2012-13 school year. Visit the ParentCONNECT page.
---

The Denair Unified School District in cooperation and communication with the home and the community recognizes our children as our future and will provide quality education in a safe environment that renders students competent in basic learning, technical, and social skills and will foster work habits, intrinsic values, and character in students that reflect life-long love for learning.
Belief Statement
We believe that Denair Unified School District, in collaboration with parents and community members, can and will provide support to ensure that every student will come to school, stay in school and do the very best they can.
---

Denair Unified School District
209-632-7514 • Fax 209-632-9194
3460 Lester Road • Denair, CA 95316
---
Nondiscrimination Statement - Denair Unified School District prohibits unlawful discrimination, harassment, intimidation, and bullying of any student based on the student's actual race, color, ancestry, national origin, ethnic group identification, age, religion, marital or parental status, physical or mental disability, sex, sexual orientation, gender, gender identity, or gender expression; the perception of one or more of such characteristics; or association with a person or group with one or more of these actual or perceived characteristics. El Distrito Unificado de Denair prohíbe la discriminación ilegal, el acoso, la intimidación y el acoso de cualquier estudiante en base a la raza del estudiante color, ascendencia, origen nacional, grupo étnico, edad, religión, estado civil o situación de los padres , discapacidad física o mental, el sexo, la orientación sexual, expresión sexual, identidad de género , la percepción de una o más de estas características, o asociación con una persona o grupo con una o más de estas características reales o percibidas.
Click here for more information
Mailing & Physical address
3460 Lester Road
Denair, CA 95316
Phone:
(209) 632-7514
Fax: (209) 632-9194